Mayland Community College Small Business Center
THREE PEAKS ENRICHMENT CENTER
Spruce Pine
Web Site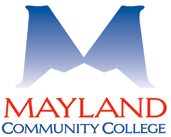 SCROLL DOWN TO VIEW OUR FREE CLASSES!

MAYLAND SMALL BUSINESS CENTER:
The Small Business Center (SBC) at MCC brings people together to learn, launch, connect and grow. If you're ready to start a new business or scale an existing venture, the Small Business Center's programs and services will give you the skills, mindset, and network to succeed. Sign up for our free classes and confidential counseling today! For questions or more information, contact Morgan Suddreth at msuddreth@mayland.edu or (828) 766-1295.
Free and confidential business counseling services are available through the Mayland Small Business Center. Whether you are thinking about starting a new business or operating an existing business, Mayland SBC counseling services can link you to information and resources to build your business. Click the link below to send a "Request for Counseling" to our Center.


Online Request for Counseling
Location
Mayland Community College Small Business Center
THREE PEAKS ENRICHMENT CENTER
97 PINEBRIDGE AVE SPRUCE PINE NC 28777
The new office location for the Small Business Center is in room 37 of the Samuel L Phillips Center for Business and Technology, aka "The Phillips Building." At the Spruce Pine Mayland Campus, the Phillips building is located closest to the main drive into campus. Free guest parking is available in the large student parking lot. Most business classes are held on the second floor of the Phillips building which can be accessed by an elevator or steps. Event signage will be posted on the main doors and classroom to assist in finding class locations. Call (828) 766-1241 or email
msuddreth@mayland.edu
for more information.