Haywood Community College Small Business Center

144 Industrial Park Drive

Waynesville

Web Site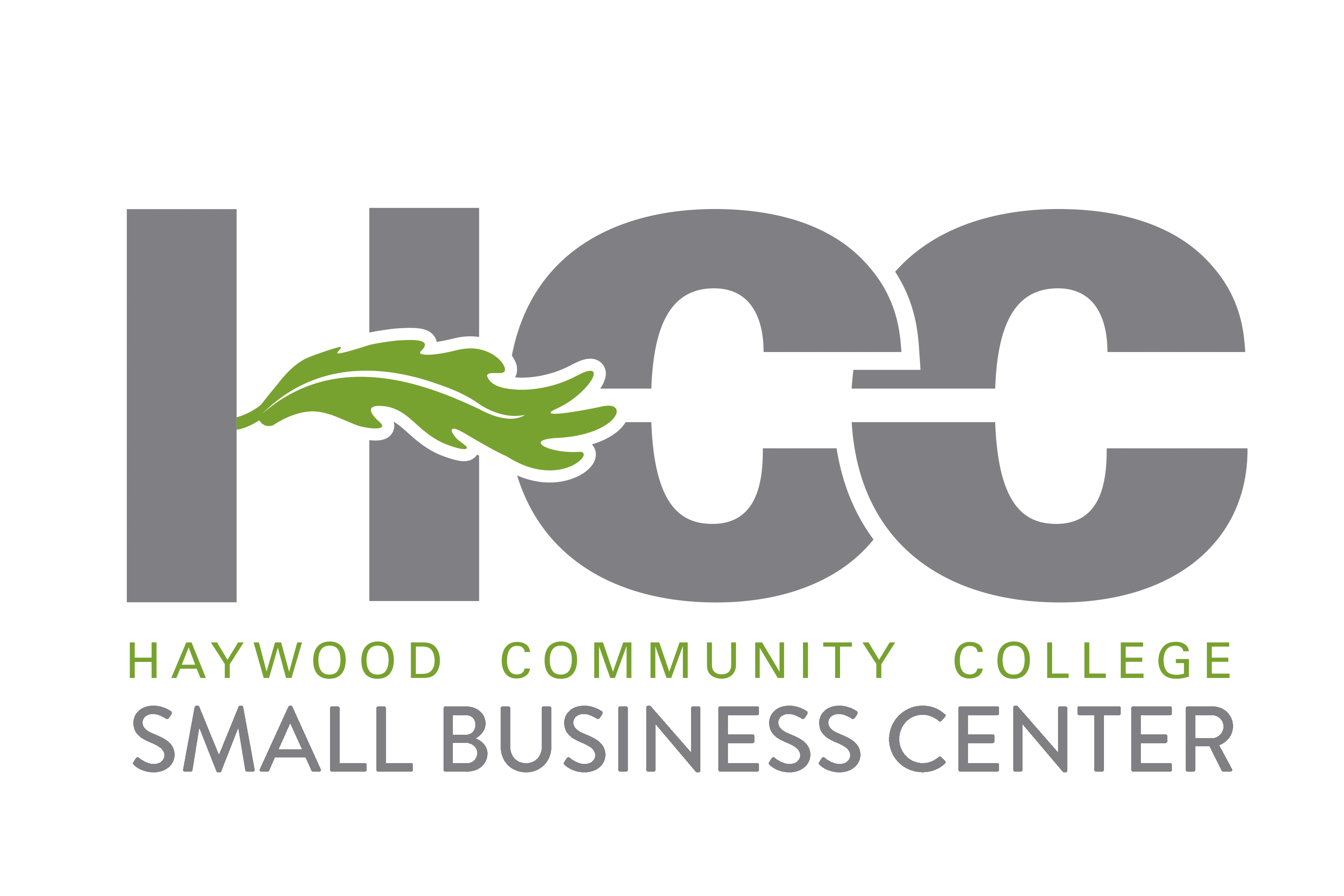 The Small Business Center at Haywood Community College actively serves Haywood County, the "First Certified Entrepreneurial Community in the Nation." http://www.awcec.com/find-a-cec/haywood/
This designation by AdvantageWest means that we are entrepreneurial friendly and have mechanisms in place to help a business to start, to grow and to thrive!
The Haywood Community College Small Business Center is now located in the heart of the community! Located beside the college's Regional High Technology Center off of Industrial Park Drive in Waynesville, the new center location offers endless opportunities to promote small business and economic development in our community.
Haywood's Small Business Center link sbc.haywood.edu contains information about our business counseling, free business seminars, a wealth of business books and audio CD's available for loan, the most current Guide for New Business in Haywood County, as well as, Success Stories of those business owners who have used our resources. Again, visit The Small Business Center online as an introduction to how we can guide you through the steps of starting a business, expanding a business, improving efficiency of an existing business, or simply helping you not make a business mistake.



Thinking about starting a business in Haywood County or growing an existing business? Take advantage of the programs, services and resources provided by the Small Business Center.
The NC Community College's Small Business Center Network assists in starting an average of more than 600 businesses each year. Small Business Centers have an economic impact in 90% of all NC Counties each year, helping to create and retain nearly 3,000 jobs annually.


The HCC Small Business Center now offers online small business seminars at the touch of your fingertips!
HCC SBC OnDemand provides flexible training opportunities at a time and location that is convenient for you.
Online Request for Counseling
Events
On Demand, available until June 30
Creating Buzz is one of the most comprehensive courses on how marketing is actually executed in a small business. Your marketing agenda as an entrepreneur is vastly different than that of a member of the Fortune 500. Some of the principles may be the same, but the details are different. The theory of creating buzz is that your primary investments should be time, energy, and imagination. In other words, you are shooting for a high return on imagination as opposed to return on investment. But buzz just doesn't happen by itself. Instead, it must be carefully cultivated and strategically crafted with an underlying architecture. Most of today's marketing still focuses on how to use advertising and other tools to influence each customer individually, ignoring the fact that purchasing is part of a social process. The most expensive marketing expenditure for any organization usually comes in educating your market-in placing your message into the targeted group of consumers you have chosen. Yet, your customers have already self-organized themselves into networks at the micro level. By tapping into these self-organized networks you can inject your message directly into the bloodstream of your targeted market. What you are really trying to do when you are marketing a concept is to have it spread in much the same way as an epidemic does through a network. Networks have properties, hidden in their construction, that limit or enhance our ability to do things with them. Creating Buzz details exactly how customer networks operate and how to select and leverage your marketing weapons to best turn your message into action. Creating Buzz is packed-full of hundreds of strategies, checklists, and tips across the realms of network theory, positioning, advertising media, word-of-mouth campaigns, publicity, and public relations. From informal, easy-to-do tactics to full-fledged formal marketing plans, the lessons taught in this course are paramount to anyone growing an organization.
Speaker: Small Biz U
On Demand, available until June 30
Take command of a bookstore and coffee bar and see how money moves in and out of a business learning the fundamentals of accounting at the same time. This course provides an in-depth look at each of the primary accounting transactions used in a business demonstrating how "the language of business" works. Without using any accounting jargon to begin with, the course demonstrates how to keep score in a business through a simple scorecard approach. When you are finished, you are shown that each of your scorecards represents one of the three primary financial statements used in managing a business.
On Demand, available until June 30
This course details the exact set of steps necessary in preparing a comprehensive loan package request. Each of the forms and requirements are explained and included. From initial readiness tests to help with advanced topics such as U.S. Small Business Administration loans, this course lays it on the line concerning what a lender is really looking for and how they evaluate loan requests. Simply understanding the way a lender thinks can more than double your effectiveness in raising money for your business.
Speaker: Small Biz U
On Demand, available until June 30
A comprehensive ten-part course on the tactics of how money is really raised for small business formation. The course examines the sources of available capital and an overview concerning the difference between debt and equity. The course walks you through the maze of financial terms and tactics necessary to successfully identify and secure money for a new business venture.
On Demand, available until June 30
This course describes the available entrepreneurial strategies and how they are applied in the marketplace. For anyone starting or growing a business venture, the knowledge and skills underlying the entrepreneurial strategies are an essential part of any entrepreneur's toolkit. Besides presenting the available strategies and their application, this course presents the sources of innovation and an overview of how decisions are made and how those decisions change over the course of a venture's life-cycle. Most wars are won or lost before they are ever fought. Understanding and applying the entrepreneurial strategies fueled by the sources of innovation is what separates the victors from the defeated.
Speaker: Small Biz U
On Demand, available until June 30
This course presents a media-by-media discussion of the tips and tricks used by marketing professionals when advertising a product or service. Learn how to set an advertising budget, learn why it's better to run two smaller ads than one larger one, learn how to correctly position your product and how to best design an effective marketing message, and learn what you need to know about selecting media for an ad campaign. This course also presents an overview of public relations tactics and internet marketing practices. At its conclusion, this course details specific measures how to assess the success of your results.
Thursday, January 26, 2017 3:00 PM to 6:00 PM
Is it time to finally get your books in order? Are you tired of not knowing if you are making or losing money throughout the year? Intro to QuickBooks is your introduction to computerized accounting software. This class is the first class of a two part series. During this lesson, we will review the different versions of QuickBooks (PC vs Apple and Desktop vs Online) and determine which version is best for your business. Additionally, we will review how to customize this program for your business based on your specific industry. We will also have hands-on exercises covering the basics of using this popular accounting program. Please bring a thumb drive with you to back up your work. Basic computer knowledge is a prerequisite.
Speaker: Alicia Sisk-Morris
Find More Events....
Location
144 Industrial Park Drive
Waynesville, NC 28786