Learn to Lead Series: How Business Owners Develop Other Leaders
Topic: Managing a Business
The dream most business owners share is that someday, they will be able to depend on other leaders to run their business. But how does one get to that point? It all begins with how you, as the leader, develop other leaders in your small business. In this workshop, Julie will share how to identify, select, develop, and mentor the next generation of leaders within your company.
Speaker: Julie Bee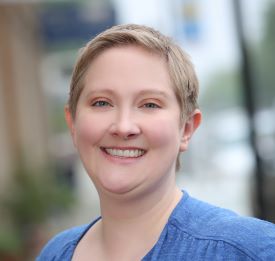 Julie Bee's leadership journey started early, at seven years old. Throughout her life and career, Julie has repeatedly found herself in leadership roles, even when her age or experience didn't make her the obvious choice. In many of her speeches and talks, Julie gets vulnerable and shares her mistakes to help those listening become better leaders.
In 2008, Julie founded a social media marketing agency and still leads the organization today, practicing her leadership principles centered on compassionate and empathetic leadership. She founded Lead from Anywhere in 2020, which helps leaders learn the skills to nurture and grow other leaders.
Julie Bee is a graduate of Goldman Sachs 10,000 Small Businesses program and has been a finalist for several prestigious business awards. Julie has also served as chairperson on a board of directors where she led a team of 14 volunteer board members, and hundreds of other volunteers.
In addition to her leadership roles, Julie regularly advocates to State and National legislature on behalf of small businesses. She also works with community colleges in the Charlotte-area to support and mentor locally owned, minority business owners.
Julie's leadership principles and approach have been featured on The Helm, Authority Magazine, Thrive Global and many more.
Fee: No Cost