For ME (Minority Entrepreneurs) Networking Meeting: DIY Food & Product Photography
Nobody is going to eat food that looks unappealing or buy a product that looks bad. Learn to take quality photos of whatever you're selling, whether it's a culinary masterpiece or a product that solves all of the world's needs. In this class, we'll be discussing light boxes, lighting, backgrounds, framing, and composure. Commercial photographer Bob Mackowski creates photos like these for his clients, and in this class he'll teach you how to do it without his help.
What is the For ME (Minority Entrepreneurs) Networking Group?
This groups serves to empower minority-owned businesses in Carteret County to connect with each other, grow with each other, and mentor each other. We want to ensure that there is a future where minority-owned businesses can see themselves represented.
For ME Networking Group focuses on working with existing minority-owned businesses and professionals to assist up-and-coming minority entrepreneurs. This assistance will be through support, collaboration, and mentoring.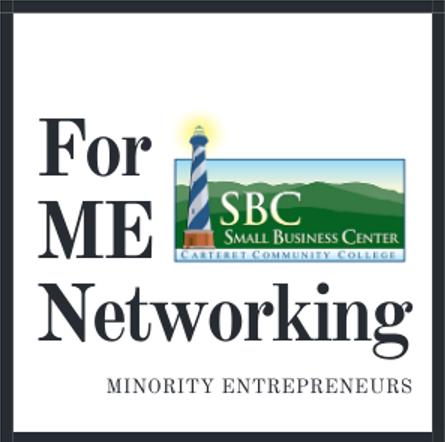 For ME Networking meets the first Wednesday of each month 6:15pm - 7:30pm. This month's meeting is extended to accommodate the topic.
This meeting will take place in person in the Bryant Student Center. We will stream this meeting live. Please call 252-222-6123 to obtain the Zoom link if you're unable to join in person.
Fee: No Cost