Success Story: Belle and Clover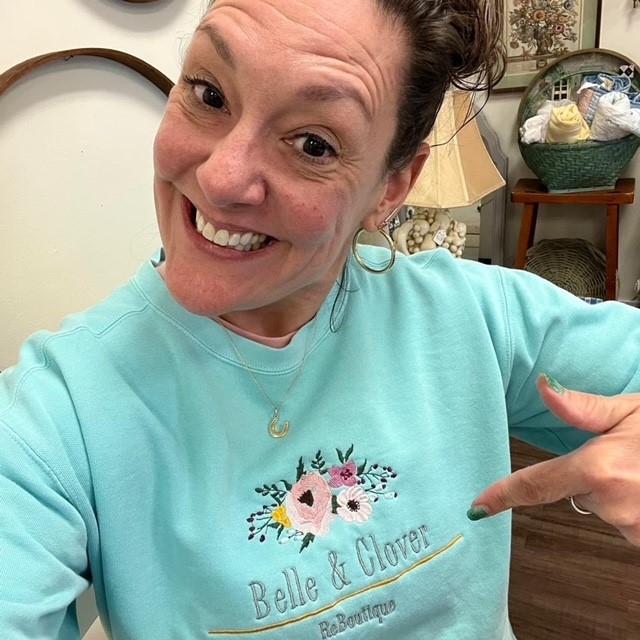 Beth Allen is a first-time small business owner, who had always dreamed of opening her own thrift store. She was very excited to find a storefront space for rent in downtown Belhaven and jumped at the opportunity. Outside of her enthusiasm for shopping for unique second-hand items, she didn't have much knowledge in terms of how to start and operate a small business. With the goal of opening in time for the 2022 holiday shopping season, Beth had a lot to learn and a lot of work to do. She reached out to the Beaufort County CC (BCCC) Small Business Center, and we got to work right away.
From the start, we helped Beth in critical areas like market analysis, business planning & strategy, product pricing, advertising & marketing, bookkeeping & finance, social media, and more. It was so inspiring to see Beth open a beautiful shop, in time for the holiday shopping season! She also accomplished a life-long dream and created a job for herself, that she enjoys doing every day. The town of Belhaven also benefits from another strong business that locals and visitors alike can enjoy!
A note from Beth:
To whom it may concern:
The Beaufort County CC Small Business Center has been amazing in helping me with the start-up of my "new to you" vintage "re-boutique." In our first meeting my counselor provided me with market research that showed the trends and the keys to success in this industry of vintage retail. The information showed that there is an upswing in the vintage market. My counselor has been a friend and an educator. He encouraged me to join the lecture for social media provided through BCCC as well as upcoming classes, like the Canva class. They also assisted me with setting up my professional Facebook and Instagram profiles. The SBC coordinated and helped facilitate assistance in education with my business finances by connecting me with a local bookkeeping/accounting specialist to help me learn about tax preparation and QuickBooks. My counselor assisted me with setting up and learning to use the POS system Square. The BCCC SBC also assisted me in setting up my professional Google profile. Just to name a few of the things the BCCC SBC has done for me!!
The Beaufort County CC Small Business Center has been amazing in helping me with the start-up of my "new to you, vintage re-boutique"!
Beth Allen
Owner, Belle and Clover