Success Story: Downtown Weldon Flea Market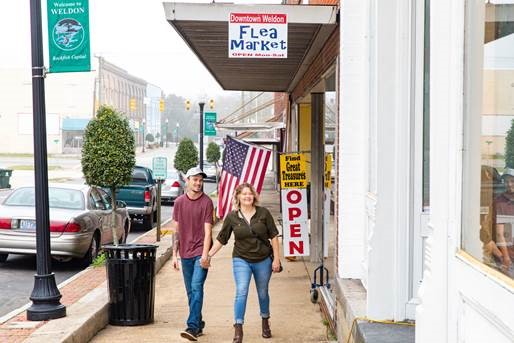 Andy Whitby, owner of Downtown Weldon Flea Market, had this idea of promoting Downtown Weldon as a destination for treasuring hunting, meaning customers seeking to find a treasure in our antique and thrift shops. He had bounced around several potential slogans. A Treasures Hunters Paradise, A Destination for Treasure Hunting, Let's Go Treasure Hunting. But none seemed to be accurate to meet the current number of shops and allow for growth. He didn't want to use a term that would oversell what was available and lead to the disappointment of the customers.

Then a convergence of several things allowed Andy to flesh out the idea and land on the term Find Great Treasures in Downtown Weldon. Riverside Mill began promoting a Community Yard Sale on the weekend of October 3rd to serve as a replacement of the canceled Highway 301 Yard Sale. Then some of the businesses Downtown on the Avenue began talking about having a sidewalk sale the same weekend. Then Andy became aware that several residents were planning yard sales at their homes for the same weekend. This led to a Facebook post in which I used the term "Explore Weldon for Great Treasures" and listed the places that were doing something extra for the weekend.

In late September, the Small Business Center (SBC) at Halifax Community College contacted Andy to tell him they had some pandemic relief funding. The SBC wanted to discuss with him if there were any needs he had that would help his business recover during these times. After talking about it, they were able to connect him with a Social Media Marketing Consultant who helped him develop a strategy to better promote the business through social media.

As Mr. Whitby and his consultant discussed the flea market business, he mentioned that he really had an interest in learning more about how he could promote all of Weldon. As discussions developed, a theme of "Find Great Treasures in Downtown Weldon" emerged.

Several ideas, needs, and should do's were fleshed out with the Social Media consultant. A prevailing thought was that we, all of the merchants of Downtown Weldon, should be trying to obtain the contact information of our shoppers. Encouraging customers to do a Facebook Check-In or post a "Selfie" with tags and hashtags. This will promote Weldon when shoppers let their friends know that they have found a Great Treasure in Weldon. A minimum of eight (8) small businesses located in Downtown Weldon are benefiting from this new collaboration and connectivity.
The pandemic relief funding provided through the Small Business Center will be benefiting a whole community of businesses which will be a win for everyone.
Andy Whitby
Owner, Downtown Weldon Flea Market