Success Story: SG LAWN CARE LLC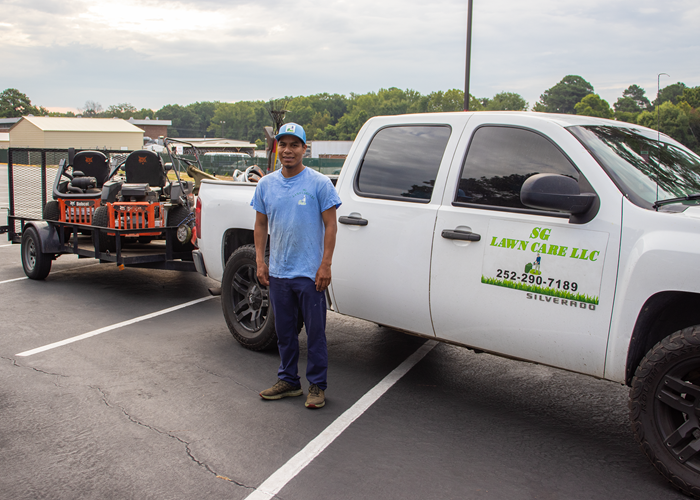 While endeavoring to improve his language skills and working in a similar business for twelve (12) years to gain expertise and financial resources, Filemon Santiago Gonzalez patiently dreamed of investing in himself and starting his own lawn care business. In August 2022, Filemon and Laura, his spouse, took the first of many challenging steps and contacted the Small Business Center (SBC) to discuss startup basics. Through one-on-one confidential counseling with his local SBC, Filemon explored the availability of his proposed business name, gained an understanding of the LLC registration process, discovered how to apply for an EIN, learned about business insurance requirements, and recognized the need for a bookkeeping system to properly track income and expenses in order to facilitate the filing of a business tax return.
By early September 2022, Filemon had already contacted the owner of two large apartment complexes and sought advice from the SBC regarding the acceptance of their contract. After discussing cash flow concerns with the SBC director, Filemon overcame the challenge of calculating a fair quote and successfully obtained two commercial lawn care contracts. Once Laura became an official partner in October 2022, the SBC referred her to a guest counselor with QuickBooks expertise for detailed guidance regarding the proper way to code bank fees, enter payments, reconcile bank and credit card statements, and calculate cost of goods sold (COGS) vs. overhead expenses.
By learning how to control their finances and prioritize the purchase of new equipment before hiring an employee, Filemon and Laura were able to triple their investment in the business during the first year. Their determination and due diligence enabled SG LAWN CARE LLC to overcome challenges and advance quickly out of the startup gate.
"For many years I worked for a lawn care company, and one day I wished to start my own company. Thanks to the SBC, I registered my company and took advantage of the great resources offered."
Filemon Santiago Gonzalez
Partner, SG LAWN CARE LLC