For ME (Minority Entrepreneurs) Networking Meeting - Carteret CC Business After Hours Event
For this month's meeting, join us for an evening of food, door prizes, and networking!
Carteret CC will host the Carteret County Chamber of Commerce Business After Hours beginning at 5:30pm on April 6th. Join us for a night of networking and meeting other local businesses. This event is $5.00 for Chamber members, BUT is free to first time attendees. Registration is REQUIRED. Once you arrive to the event you will check in and pick up your name tag. The attire is business casual.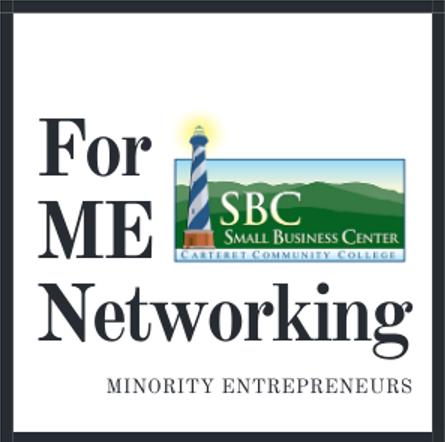 What is For ME Networking?
We strive to empower minority-owned businesses in Carteret County to connect with each other, grow with each other, and mentor each other. We want to ensure that there is a future where minority-owned businesses can see themselves represented.
For ME Networking will focus on working with existing minority-owned businesses and professionals to assist up-and-coming minority entrepreneurs. This assistance will be through support, collaboration, and mentoring.
For ME Networking meets the first Wednesday of each month 6:15pm - 7:30pm.
This meeting will take place in person in the Bryant Student Center. We will stream this meeting live. Please call 252-222-6123 to obtain the Zoom link if you're unable to join in person.
Fee: No Cost